Plans
Planning story presentation is important if you want to achieve your goals.
Outline cards
An outline card is a good idea so that you have the details of the story recorded for quick reference. This is especially useful if you havenít told the story for some time. On the outline card list the main events in the story, in the correct order. Also list any aids you will need.
Telling your Story
Every story session needs a beginning, a middle and an end.
Beginning activities
Before starting the story, capture the attention of the group. This can be done by:
reciting a finger play

singing a song

talking to them as they watch you arrange the story aids

inviting children to help you place aids correctly
Telling the story
This is the main part of a story session. I often involve the children by asking them to:
make sound effects e.g., rain

carry out some simple instruction
Endings and follow-up activities
At the end of the story there is time to revise the story. This gives children practice in remembering new vocabulary and recalling story details. This is a good time to involve children in some way, as conversation now doesnít interrupt the flow of the story.
Story bags
A story bag contains items relevant to the story, that can be handled and/or talked about by the children. For example after telling the story of The Great Big Enormous Turnip, I have a turnip and a ladle in a bag. Many children in my community are not familiar with turnips and donít know the word ladle.
Games
Many stories are short and there is time after to play a game. Look for games that are related to the story e.g. pass the parcel after a story about a birthday.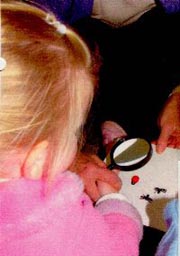 This child is using a magnifying glass as a follow-up activity