Drama
Stories, dressing up and drama are great companions. Children learn through play and to me, drama means play. When I was a child, I wondered why grown ups didnít play. Iím lucky. Storytelling allows me to play whenever I like. If you watch children play, a lot of their time is spent in acting out real or imagined situations. You can do the same in storytelling and you can involve the children at the same time.
Stories that work well as drama
Children love to dramatise traditional stories like:

Children love to dramatise familiar stories like:

going shopping
swimming at the beach
fighting a fire
birthday parties
circus performances
Props for drama
Most props will be everyday things such as appropriate clothing for the story e.g. boots, coat and beanie if the weather is cold in the story. If you are a giant or a clown you may wear a wig, a big nose or special pants.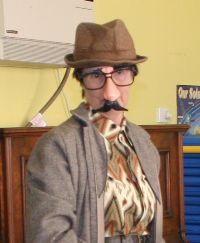 Helen as Mr. Brown
Mime becomes part of the story when I use imaginary items. Dressing and undressing can be mimed, much to the amusement of the children. They join in enthusiastically when I pass out imaginary food or we all go swimming or climb a mountain.
Here I am taking off in my aeroplane.

I wear an ice cream container for a helmet.

I often use junk materials.
Helen as Smuggler Sam, is catching fish.

A story takes place anywhere, any time.

This time it was in the library and the boat was a

table.